Employee Monitoring Technology
Product Overview
Sonar records and controls all employee computer activity, increasing staff productivity, decreasing exposure to litigation and meeting compliance requirements related to privacy laws and regulations. Unique in the industry, Sonar does not require you to purchase any hardware. Employee Monitoring's software application monitoring and blocking suite allows schedules to be set that control which software applications can be used and when. Time wasters such as Windows Media Player or iTunes can be blocked during work hours and allowed during off hours as desired. Dangerous applications, including FTP uploading or peer-to-peer programs like BitTorrent, can be permanently blocked. And of course, all activity is recorded and available to you in your online account.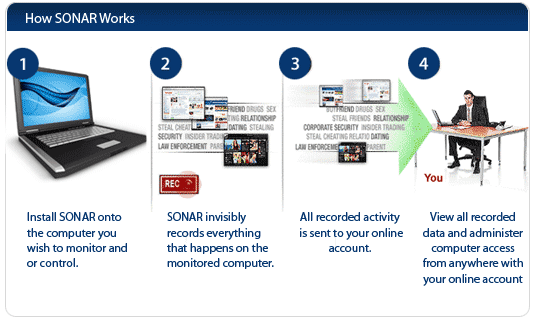 Complete 360-degree monitoring and recording
All email (including both corporate email accounts and webmail like Gmail and Hotmail)
Instant messaging
All keystrokes typed
Documents created, accessed, changed or edited
Software applications
All websites visited
Database queries
Customer data
Generate reports to meet compliance requirements
Can be deployed silently over the network in minutes with no user prompts.
All keystrokes
Complete record
Includes all deletions made in email, document or spreadsheet
Easy-to-read format
Block sites and applications that lower productivity
Complete web filtering – by category, by content
Application blocking
Alert words
Instant Messaging
Whitelisting
Productivity protected
Corporate network not exposed to spam and spyware by controlling unauthorized web use
Screenshots of any activity carried out on computers
Video-like playback
Triggered by alert words, programs or websites
Captures incontrovertible evidence
Minimal upfront investment and simple licensing and ordering process
Quick deployment to jumpstart your business
Reduces administrative overhead to lower operational costs
Supports exicting business processes
Grows with your needs
Reduces business risk by responding in real-time
Easily installs and deploys for low TCO
Generates increased value from current security investments
Helps ease regulatory compliance efforts with centralized analysis and reporting
Ensures customer data privacy and integrity
Scales to thousands of customers or business units
Works in terminal server and Citrix environments
Please click the video below to learn more about how InterGuard's Employee Monitoring Software can help your organization with internal data leakage.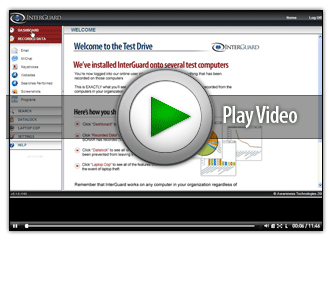 Click here for a free trial of Sonar - Employee Monitoring