Provides Data Loss Prevention for your organization
Product Overview
InterGuard provides Data Loss Prevention for your organization - regardless of where your employees or your critical information reside. It can scan every file on every PC in your organization to uncover where confidential Data At Rest resides as well as prevent confidential Data In Motion from leaking out (via email / attachments, USB devices, web postings, etc.). In today's increasingly mobile world, where employees and contractors alike demand instant access to corporate assets and confidential information from remote locations, protecting that information can be extremely difficult. Traditional network-based solutions have porous perimeters. Removable media? Webmail? Instant Messaging? All these escape the control of many of our competitors. Thus, they offer only limited "data loss prevention". InterGuard Data Loss Prevention is superior because it can identify and protect sensitive information no matter where it's being accessed. It operates preemptively to keep your organization continuously ahead of today's constantly evolving threat landscape. InterGuard is installed at the desktop level and reports back over encrypted HTTPS protocols, instead of over the network. This is crucial since it streamlines the process of detecting and blocking any unauthorized attempts to move data outside the organization. Simply put, InteGuard builds a protective circumference around each computer in your organization, rather than just network traffic. This means InterGuard is more effective and comprehensive in securing your confidential data than network-based solutions. InterGuard uncovers your risks by scanning all of the PCs in your organization to show you where confidential information resides (Data At Rest). InterGuard prevents confidential Data In Motion from leaking out of your organization via webmail, attachments, web postings or USB devices.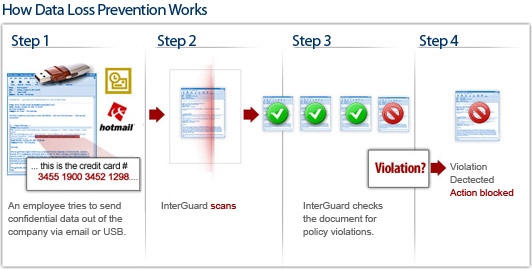 Scans emails and attempts to write to removable media for policy violations: mishandling or misappropriation of confidential data, Intellectual Property, trade secrets, Non-Public Personal Information
Automatically scans all PCs in your organization to find where confidential information resides.
Blocks any communication with confidential data
Prevents accidental disclosure and malicious theft of sensitive data
Monitor and control the transfer of sensitive information to removable storage devices
Easy, intuitive policy-creation
Overcomes any attempt to encrypt before sending unauthorized data
Protects data in any format, even if copied, pasted or compressed
Recognizes file type changes
Define and manage data protection policies
Generate reports to meet compliance requirements
Can be deployed silently over the network in minutes with no user prompts.
Data Loss Prevention Benefits
Minimal upfront investment and simple licensing and ordering process
Quick deployment to jumpstart your business
Reduces administrative overhead to lower operational costs
Supports existing business processes
Grows with your needs
Reduces business risk by responding in real-time
Easily installs and deploys for low TCO
Generates increased value from current security investments
Helps ease regulatory compliance efforts with centralized analysis and reporting
Helps satisfy audit requirements
Ensures customer data privacy and integrity
Scales to thousands of customers or business units
Intergrates with Active Directory
Works in terminal server and Citrix environments
Please click the video below to learn more about how InterGuards Data Loss Prevention can help your organization with internal data leakage.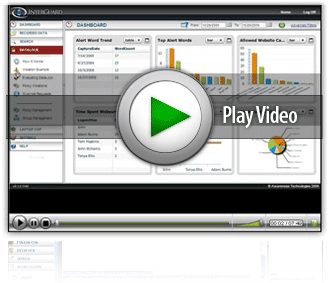 Click here for a free trial of InterGuard - Data Loss Prevention