Provides Data Loss Prevention for your organization
Product Overview
InterGuard provides Data Loss Prevention for your organization – regardless of where your employees or your critical information reside. It can scan every file on every PC in your organization to uncover where confidential Data At Rest resides as well as prevent confidential Data In Motion from leaking out (via email / attachments, USB devices, web postings, etc.). In today's increasingly mobile world, where employees and contractors alike demand instant access to corporate assets and confidential information from remote locations, protecting that information can be extremely difficult. Traditional network-based solutions have porous perimeters. Removable media? Webmail? Instant Messaging? All these escape the control of many of our competitors. Thus, they offer only limited "data loss prevention".
InterGuard Data Loss Prevention is superior because it can identify and protect sensitive information no matter where it's being accessed. It operates preemptively to keep your organization continuously ahead of today's constantly evolving threat landscape. InterGuard is installed at the desktop level and reports back over encrypted HTTPS protocols, instead of over the network. This is crucial since it streamlines the process of detecting and blocking any unauthorized attempts to move data outside the organization. Simply put, InteGuard builds a protective circumference around each computer in your organization, rather than just network traffic. This means InterGuard is more effective and comprehensive in securing your confidential data than network-based solutions.
InterGuard uncovers your risks by scanning all of the PCs in your organization to show you where confidential information resides (Data At Rest).
InterGuard prevents confidential Data In Motion from leaking out of your organization via webmail, attachments, web postings or USB devices.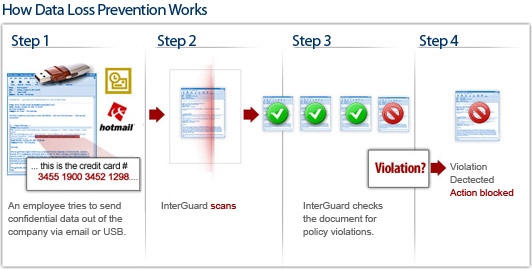 Click here for a free trial of InterGuard – Data Loss Prevention